OMG! A play about the live of numbers?
Yes, the theater group shows a piece about numbers this year, as always with music by Holly Holleber!
What sounds so exciting here as a middle school math lesson is actually an entertaining piece about the lives of the numbers 0-9 living together in peaceful harmony in their home. They have their peculiarities, but they complement each other well. Together they create everything that people need. They care for the prices in the supermarkets, they sneak into the heads of the people who count on them and in their spare time they do sports.
But one day Önf turns up and claims to be a number too! From then on, everything changes. More is not revealed!
The theater group, which now consists of 30 students in grades 8 – Baccalaureate course 2 -, shows their production "Oenf" in March on six dates!
We look forward to welcome you to one of the performances at the Adolf-Schmitthenner-Gymnasium!
The Oenf team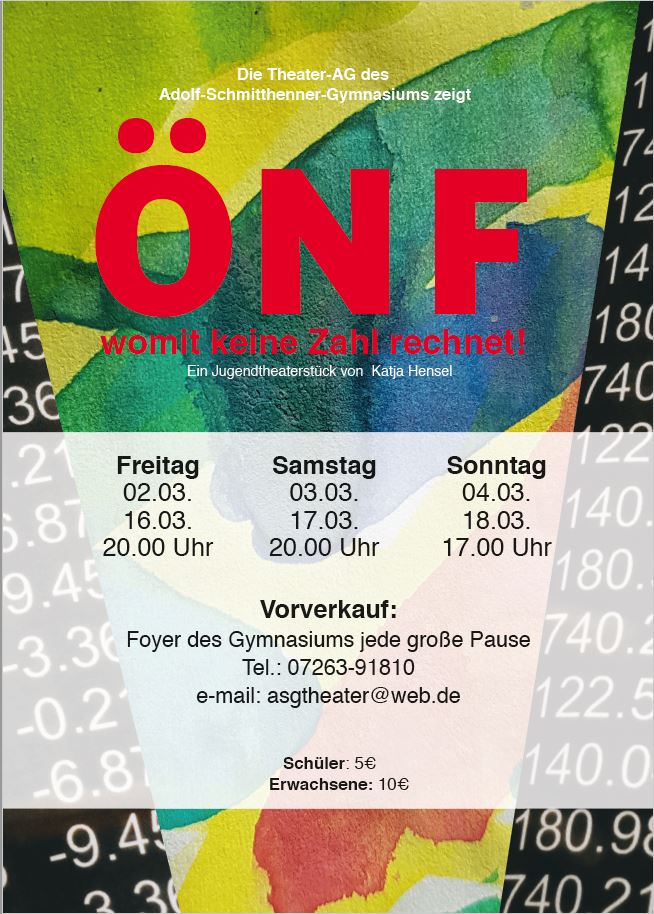 And once again, I have gladly agreed to work on a play by the Theater-Ag of the Adolf-Schmitthenner-Gymnasium. In addition to contribute to the success of the play I composed programmatic pieces of music for the whole group and some solo songs, I was also interested in developing staging ideas and text contributions. It is fascinating to see and hear how the process of work makes the piece grow more and more, until it finally really waits for the audience.
The willingness of young people to make an effort is also to be emphasized again and again, even though it was always about getting control of concentration problems and a lack of self-discipline. Finally it worked.